Ryan Schulha - 2019 Peewee Head Coach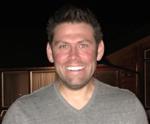 The 2019 Raider Peewee team will be Head Coached by Ryan Schulha. Ryan has spent the last few seasons as a Raiders Assistant Coach at the Atom level, developing a winning Atom program that culminated in Division Championships for both West Edmonton Raider Atom teams in 2017. Ryan also enjoyed winning the City Championships during his playing days with Harry Ainlay High School before moving on to play, and Captain, the University of Alberta Golden Bears.
Coach Schulha continued the Football mantra of giving back by coaching the Edmonton Wildcats from 2006 - 2009. From 2010 - 2012, Ryan coached Running Backs at the U of A. His coaching career included the Canada West Semi Final and Canada West Championship in 2010. Coach Schulha has helped develop a successful Atom program, leading both Raider Atom teams to Championship wins in 2017. This success carried over into our Peewee Program, as he Head Coached them to the Division 4 Championship in 2018.
We are excited to welcome Ryan Schulha back as Head Coach, and look forward to seeing his list of equally qualified Coaching Staff.